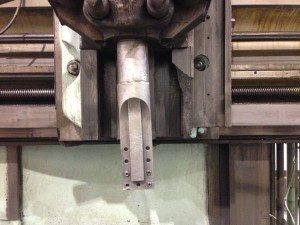 "What, if anything, can you do to help us out with this one?"  An earnest question from a customer who reported "an incident" with their 36″ Bullard VTL.  The head of the machine was crashed (into a part with a raised flange), the turret was loose, and they needed an assessment of the damage, and an answer to that critical question….  Could the machine be helped?
The Peiffer team traveled to the customer facility and discovered that the ram saddle had taken a direct (and nasty) hit….  The entire assembly was removed from the machine and transported back to Peiffer for further disassembly and evaluation.
"Yes, we can fix this!" was the resounding response from the Peiffer team.  A detailed quote was provided to the customer, which included not only repairing the cracked and broken parts, but also machining the ways on the ram, applying new way liner, scraping the ram/slide ways, cutting in new oil grooves, as well as working on the x-axis saddle face (back at the customer's machine).  Re-installing the slide assembly and ensuring the ram was running "square" to the table axis completed the repair and restored machine operation, better than before the "incident".
A few snapshots of the work in the Peiffer shop tell the tale of another small miracle at the hands of the Peiffer Machine Services team.  For those of us who watch what they do, we cannot help but ask:  "How do they do that?"  We stand in awe.
Photo Gallery 1:  Assessing the Damage
Photo Gallery 2:  Repairs in Process
Photo Gallery 3:  Finished Repair, Reassembly