What does teamwork look like where you work?  At Peiffer, it's whatever's required to get the job done.  Sometimes, we're like a football team, moving en masse to achieve first downs and score a touchdown, while at other times, we function more like a 3200-meter relay track team, where each individual contributes his/her own "best" to hand off to the next person, who advances the race to the critical finish line.  Avoiding fumbles or dropped passes is always the game plan.  When you're a smaller team, as we are, the good news is that everybody gets "playing" time….
Our shop has been very busy lately, and just when we thought we were out of floor space and room on the schedule and people to get work done, we got a critical call.  A longtime customer, who had suffered a devastating fire at their plant a few months prior, was ready to move on repairing some key machines damaged in the fire and its aftermath.  Could we help?  NOW?  Three machines were ready for immediate release, with pressing deadlines for return to production.
Without hesitation, the Peiffer team said:  YES!  We juggled the game plan on the shop floor one more time (i.e. 'move this here, that should make room for that there, etc.'), and everyone, including Kelly Ressler, Peiffer's Owner and President, rolled up their sleeves and joined in the effort to help the team "get work done".  Lots of quick huddles and time-outs to make sure we were all on the same page….  While other team members were continuing work on projects already in process, team members like Kelly, jumped in to start work on the disassembly phase for the newly arrived machines.  Team members from other departments worked overtime and weekends to help clean parts.  Others made "parts runs" to vendors to pick up critical supplies.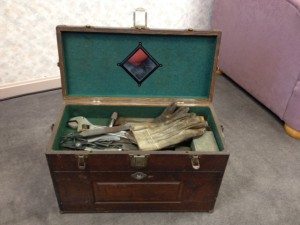 In a beautiful, symbolic gesture of this Spirit of Teamwork, our former President and Owner, Jim Ressler, came to work last week with a special delivery for Kelly:  her grandfather, Bob Ressler's, original wooden toolbox.  Bob started his career as a machinist's apprentice on the shop floor at the former New Holland Machine Company and was always a "team player" when it came to getting work done.  We are proud to say that that spirit is alive and well at Peiffer today.
GO TEAM!!!